After an abrupt departure, John Skipper is trying to beat his former employer at its own game. By: Ira Boudway
On a recent fall morning, John Skipper is backstage at Madison Square Garden's Hulu Theater, a 5,600-seat space tucked beneath the famous New York City arena. He's there to greet Canelo Alvarez, the red-headed Mexican boxer whose only loss in 53 professional fights was to Floyd Mayweather in 2013. Skipper, the executive chairman of sports media startup DAZN Group, has just signed Alvarez to the richest athlete contract in sports history, a $365 million agreement for the rights to broadcast his next 11 fights. In a few minutes the two will wind through hallways and stairwells to the stage, where Alvarez will pose chest-to-chest before the press with his upcoming opponent, Rocky Fielding of Liverpool.
In the meantime, Alvarez, in a dark vest and white button-up shirt, is autographing boxing gloves, pulling them from a pile of 300 and dropping each finished pair into a large cardboard box. When Skipper approaches, Alvarez pauses. "Thank you for being here. We are very excited about the deal," Skipper says, shaking hands. "Muchas gracias."
It's a big moment for Alvarez, yet Skipper seems the more thrilled of the two. For him, the hoopla marks a big step forward in his comeback from a public stumble. "Today is a lot of adrenaline," he says prior to heading onstage.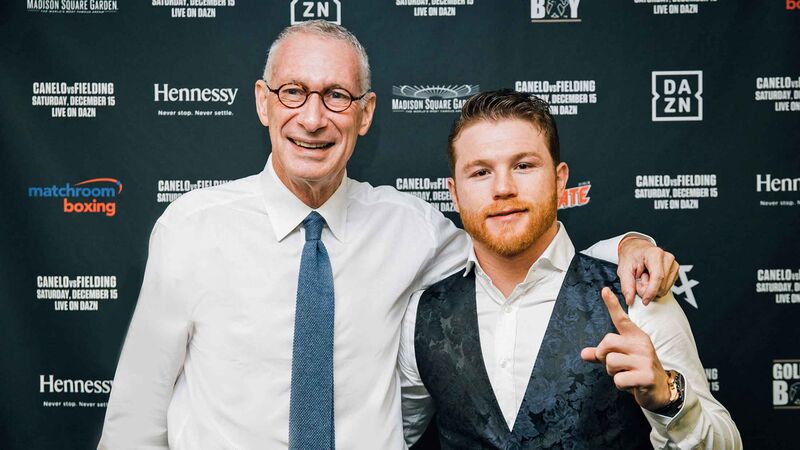 A year earlier, Skipper was president of ESPN and one of the most powerful people in television. In his six years on the job and 20 at the network, he helped build it into a $10 billion juggernaut for Walt Disney Co., cutting massive checks to the NBA and NFL and running the machinery that helps turn professional athletes into household names.
Skipper had signed a contract that November to stay on for three more years. ESPN was starting to look vulnerable as consumers abandoned cable TV, and Disney Chief Executive Officer Bob Iger wanted him at the helm as the network began the shift to a digital streaming economy. A month later, at ESPN's headquarters in Bristol, Conn., Skipper sat in front of about 450 on-camera reporters, analysts, and anchors and told them his plans. "I want to lead an ESPN that strives purposely and confidently into a new world, which is not scary but exciting," he said.
Less than a week later, he resigned. "I have struggled for many years with a substance addiction," Skipper said in a statement announcing his departure. "I have decided that the most important thing I can do right now is to take care of my problem."
The sudden exit fueled speculation that the addiction story was cover for a sexual harassment scandal. The #MeToo movement had already ended the careers of Charlie Rose, Matt Lauer, and other media stars. Fox Sports radio personality Clay Travis, an ESPN critic, tweeted a surreptitious photo of Skipper at a bar with a martini glass at his elbow less than two weeks after his resignation. "ESPN lied about John Skipper's substance addiction to cover up the real reason he was being fired," Travis wrote, suggesting that if Skipper had an issue, he wouldn't be drinking in public. Skipper tried to set the record straight in a March 2018 interview with the Hollywood Reporter. "Someone from whom I bought cocaine attempted to extort me," he said. When he met with Iger about it, they agreed he should resign.
Backstage at the Garden, Skipper makes clear that he's not interested in rehashing the extortion plot—which, he says, was the sole reason he left. "What I told people was the truth," he says in a slight drawl, a remnant of his North Carolina upbringing. "Why they don't choose to believe it, I have no clue."
What does interest him is an article about his ambitious second act, which is why he's letting me hang around. Skipper, 63, spent his early career at Rolling Stone and Spinand helped start ESPN the Magazine. He knows a little scenery helps a story, so he's chosen this dressing room chat as a table setter for two later interviews. The story he hopes to tell is about how "the old guy who ran ESPN" is now working at a startup that aims to take its place as the "worldwide leader in sports." He wants to talk about DAZN (pronounced "da zone"), a subscription streaming service with an odd name and big plans to disrupt sports broadcasting. It's a neat narrative—incumbent turned insurgent—but Skipper knows he's entering a brutal contest with one of two outcomes: win by knockout or get knocked out.
Skipper won't call DAZN a "Netflix for sports," at least not publicly, but it's useful shorthand. DAZN offers live sports on the internet for a monthly fee. It started in Germany and Japan in summer 2016 and now also operates in Canada, Italy, and the U.S. The German service (which is also available in Austria and Switzerland) offers four of the top European soccer leagues plus the NBA and NFL for about $10 per month. In Japan, subscribers get domestic soccer and baseball, plus MLB, the NFL, three European soccer leagues, and UEFA Champions League, for about $15. U.S. service began in September, offering boxing and mixed martial arts at $10 a month. There are plans to start up in Spain and Brazil later this year.
The goal is to become an indispensable part of sports fans' entertainment budget. It's a wildly expensive project. Rights packages for top leagues make the cost for a season of Game of Thrones look like pocket change. And DAZN is competing against many of the biggest media companies in the world, including Disney.
DAZN has a puncher's chance because it's backed by Len Blavatnik. The Ukrainian-born media tycoon built a fortune from oil and aluminum dealings in Russia and now oversees a $20 billion empire that includes Warner Music Group. Skipper joined the management team in May, six months after his ESPN exit. The departure was a stroke of good fortune for DAZN: The most plugged-in executive in the business was suddenly available right as the company was looking to crack the U.S. market. "Everybody better be taking them seriously," says Rich Greenfield, a media analyst at research company BTIG LLC. "They've got large amounts of capital and a talented management team that understands all of the problems of the legacy ecosystem."
DAZN began as part of Perform Group Ltd., a London-based company Blavatnik formed in 2007. Perform built a $450 million business as a middleman for sports content, buying rights to games and data from teams and leagues, then packaging them for broadcasters and bookmakers. In 2014, Perform decided to create its own direct-to-consumer product, setting aside several hundred million dollars to get it off the ground. Consumers were moving to online subscription services for movies, TV, and music. Sports seemed an obvious next step.
Perform picked the name DAZN because it stood out and was available as a trademark across dozens of markets, says Joseph Markowski, executive vice president for North America. And yes, the company is aware that people can't pronounce it: DAZN's Twitter feed includes a video of heavyweight fighter Anthony Joshua and other athletes struggling with the name, saying "duh-zin" and "day-zin." That's OK, Markowski says—it helps make the name memorable.
DAZN soon went on a multibillion-dollar spending spree. In Japan alone, it committed $3 billion to rights. The splurge didn't go unnoticed at ESPN, where Skipper was figuring out the direct-to-consumer business. "We were studying the world of platforms that could deliver simultaneous live streams at scale," he says at DAZN's Lower Manhattan offices a few weeks after the Alvarez event. The two best in the business, he decided, were Perform Group and BAMTech LLC, a streaming provider that Major League Baseball began developing in 2000.
During the same month that DAZN started in Germany and Japan, Disney paid $1 billion for a one-third share of BAMTech and announced that ESPN would soon operate its first standalone subscription streaming service using BAMTech technology. Then Disney paid an additional $1.6 billion to become BAMTech's majority owner. Skipper now had the tools to make ESPN a streaming power.
It promised to be a heavy lift. The network couldn't simply vacuum up rights to the most in-demand sports, put them on a slick online platform, and start charging customers. Although it owned the most valuable portfolio in the U.S.—Skipper himself assembled it, spending about $8 billion annually for Monday Night Football, the NBA, MLB, and many of the most-watched college football and basketball games—ESPN was already selling this programming to pay-TV providers for about $8 per month for every home that got the network. These carrier contracts prevented Skipper from selling the same games directly to consumers.
The number of homes getting ESPN, meanwhile, had fallen from 100 million in 2011 to 87 million in 2017, according to Nielsen Holdings Plc. Even if Skipper could offer the full firehose of ESPN programming via a streaming service, there was little chance of matching the revenue that had flowed through the fast-decaying cable business model. This was the predicament he'd been alluding to when, just before he resigned, he tried to reassure the network's on-air talent about the "not scary" very scary new world.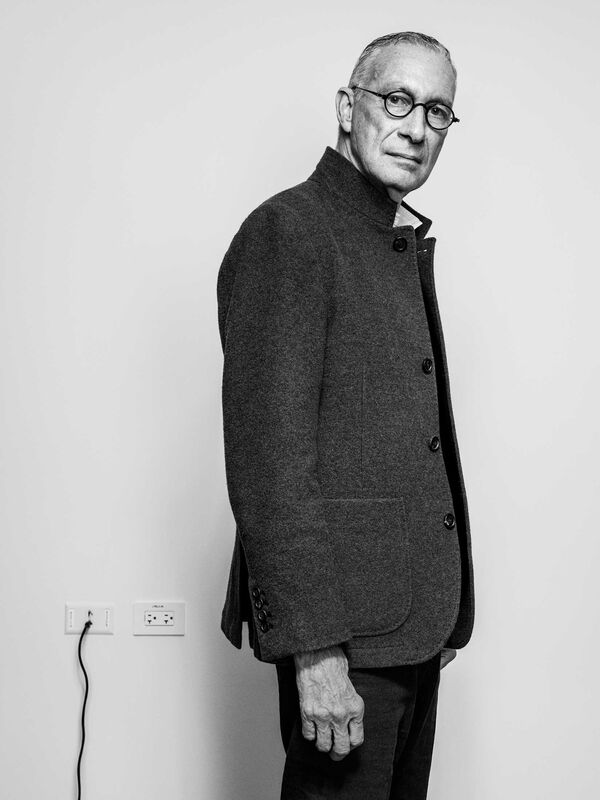 In the Hollywood Reporter story, Skipper said that after he resigned, he checked himself into a facility where he got to "understand a bit more about substance use." He told the interviewer, James Andrew Miller, co-author of the bestselling oral history of ESPN, Those Guys Have All the Fun: "I enjoy a martini, I enjoy a bottle of wine with friends for dinner. I've never had an issue with alcohol. You know, I'm an old hippie, and then an old New Yorker from the '80s." His addiction, he told Miller, had been cocaine.
Skipper's first job after he finished a master's in English literature at Columbia University was as a secretary at Rolling Stonein 1979. Over the next decade, he rose to become publisher of US magazine, which was under the same ownership. "He had a lot of friends," Rolling Stone co-founder Jann Wenner said in Those Guys Have All the Fun. "In those days it was quite the socially intertwined organization, and people had major parts of their social life totally interconnected with the place, you know, free-flowing cocaine, young people intensely involved with their work. And John fit right in with everybody." Later, when Skipper became one of the most powerful people in sports, an industry full of former jocks and B-school squares, his Rolling Stone background became part of his persona. He was the charismatic Southerner with a countercultural streak.
At a diner on the Upper East Side, not far from where he lives, Skipper remains reluctant to say more about what led to his exit from ESPN. "I regret using the word 'addiction,' " he says. "I had some inappropriate behavior." As he sees it now, buying cocaine was a manifestation of a deeper set of problems: "I had some underlying matters I needed to deal with, which had created a health problem, which I feel that I've satisfactorily resolved." Is the treatment over? "I've turned a new leaf. I feel quite confident in my ability to manage my life in a responsible manner."
After leaving ESPN, Skipper laid low for a couple of months. He read Under the Volcano by Malcolm Lowry, the story of an alcoholic British diplomat in Mexico, and a Ulysses S. Grant biography. "Taking off is great," he says, "but when you're not taking off from anything, you're not really taking off, you just don't have anything to do." When media friends began coming to him for advice, Skipper thought he could make a business of that, but he abandoned the idea after a few days. He didn't want to tell other people what to do, he realized; he wanted to be the one doing.
In April he had breakfast at the Greenwich Hotel in Manhattan with Simon Denyer, Perform's CEO and co-founder, who broached the idea of Skipper coming aboard to help run DAZN. "When I looked at what they've been able to do in Japan, Germany, and Canada, and thought about being able to try to replicate that around the world, I thought, this is kind of a unique beast," Skipper says. "We may have the disruptor and the potential winner in this space." His quick return to the industry was a deliberate statement that he wouldn't cower. "I wanted to march right back in the room as a chairman of a company and say, 'I'm fine,' " he says.
While he was negotiating his contract with Perform, ESPN introduced its long-awaited standalone streaming service. For $5 a month, subscribers to ESPN+ would get games from MLB, Major League Soccer, and the NHL, as well as some college sports and documentaries and other shows not found on the TV network. The grab bag of second-rate programming highlighted the difficulty ESPN faces as it tries to build a new business while protecting its old one. In September, Disney announced that ESPN+ had a million subscribers.
At DAZN, Skipper faces the flip side of ESPN's problems. He has the freedom to sell sports directly to viewers but little to sell. ESPN and the other incumbents have locked up the most-watched leagues into the next decade. The NFL's slate of Sunday games is next available in 2023. NBA games won't hit the market until 2025. So two days after Skipper's hire, Perform announced a $1 billion deal with British promoter Matchroom Boxing that would serve as the foundation of its U.S. service.
"I loved being the president of ESPN. But the change has been good to me"
The $365 million agreement with Alvarez and his representatives at Golden Boy Promotions Inc., which came five months later, is part of a larger deal that includes other top boxers in Golden Boy's stable and could reach a half-billion dollars if the fights draw enough subscribers. "I didn't know what DAZN was until John Skipper got a hold of me," says Oscar De La Hoya, the former prizefighter and Golden Boy co-founder. HBO had announced recently that it was dropping boxing coverage from its network. "I have to admit we were pretty desperate at the time," says De La Hoya. During negotiations in Los Angeles, he says, Skipper asked what the magic number was to get Alvarez: "I threw out a number, and he didn't blink. What I see in John is ambition—and a little revenge. When he mentioned, 'Look, we want to compete with ESPN,' I said, 'Of course. Bingo.' "
A former colleague of Skipper's who's spoken with him since he left ESPN (and also is no longer at the network) says Skipper was hurt by how Disney treated him at the end: "He felt like his long service might have suggested a different outcome than 'goodbye and good luck.' " Disney declined to comment.
Skipper says he bears no ill will toward his former employer. His focus is expanding DAZN. "If I have gained some perspective from years of working in sports and years of living," he says, "it is that you better do things that you enjoy, and you better do them for positive reasons."
For now the battle for streaming supremacy is happening at the margins of the U.S. market. ESPN has deep cuts from its vast portfolio. NBC Sports has a variety of "gold" packages for fans who can't get enough English Premier League soccer, PGA Tour golf, or figure skating. AT&T Inc.'s WarnerMedia offers UEFA Champions League and Europa League soccer on B/R Live for $10 per month. Then again, ESPN got its start on the margins. In 1979 it had bowling, billiards, slow-pitch softball—and plenty of doubters who said a 24-hour sports cable network would never work.
Skipper says DAZN is ready to bid on anything and everything that becomes available in the U.S., including the NFL. He expects that leagues will eventually start carving out exclusive rights packages for online-only bidders. In November, DAZN signed a three-year, $300 million agreementwith MLB for a nightly show that will feature live look-ins at games starting this coming season. Between boxing and baseball, DAZN has committed about $2 billion in the U.S., and it's prepared to spend billions more. To help pay for it, Perform reorganized, changing the company name to DAZN Group and splitting it into the streaming service and the digital sports agency. It's hired a banker to explore a sale of the latter.
In the long run, success depends on whether DAZN can make more money in subscriber fees than it spends on rights. Regulatory statements filed in the U.K. show that Perform had operating losses of almost $275 million in 2017, mainly because of spending on DAZN, and that was before costs associated with the U.S. introduction. The company doesn't release subscriber numbers, but Japan, Skipper says, already counts more than a million payers. At the dollar equivalent of about $15 per month per subscription, that's about $180 million in annual revenue. The global subscriber tally, he says, is past a million by "some multiples." The goal is to reach profitability in new markets in four or five years, he says.
The closest thing DAZN has to a global rival at the moment is Eleven Sports Network Ltd., a subscription-streaming service in London that operates in 11 markets including the U.K. and the U.S., offering mostly soccer, motor sports, and fights. Eleven, however, lacks Blavatnik's deep pockets. In December, after reports that it might have to close in the U.K.because of low demand, the company said it was trying to renegotiate its deals with Spanish and Italian soccer leagues.
The real worry for DAZN comes from bigger competitors. Disney's $71 billion purchase of 21st Century Fox Inc. includes sports channels in India, Latin America, and Asia. "I don't think it will be very long before ESPN+ becomes a global, standalone sports offering," says Daniel Cohen, a media rights consultant at the Octagon Inc. sports agency. There's also the threat that a tech giant will go all-in on sports. If Amazon.com or Facebook Inc. decides to swing for the fences, even Blavatnik's billions might not be enough to win the day.
On Dec. 15 at Madison Square Garden, one year to the night after the cocaine buy that cost Skipper his ESPN job, Alvarez pounds Fielding into submission in three rounds. The capacity crowd includes Bruce Willis and John McEnroe but not Skipper. A bad back keeps him home for DAZN's big night. The choice not to push it is part of his new approach to work.
At ESPN, Skipper says, his response to every challenge was the same: "I just worked harder, worked more, worked all the time." And if he hadn't slipped up, he probably would have kept at it. "I don't think I was wise enough to stop," he says. "I loved being the president of ESPN. But the change has been good to me. Not working for a little while was good to me."
He exercises more now, he says, and eats better. He's lost 30 pounds. And even though he's thrown himself into his job, traveling the world in search of rights, he no longer immerses himself in every detail. "I'll decide that I'm going to put a little hole in my day and go ride my bike around the park," he says. "One thing they talk a lot about in therapy is mindfulness. Just be aware of what you're doing. I was barely aware of what I was doing."
A friend at ESPN says that after Skipper left the network, he confided that his life there had been lonely; his exit, as embarrassing as it might have been, was a blessing. "He's happier than I've ever seen him," the friend says. Skipper's departure led to introspection about his home life, too. In November he and his wife of 39 years divorced. "He's broken free from both his personal and professional past," the friend says.
"It's not anything you would wish on anybody," Skipper says of the ordeal. He didn't need the pain it caused his ex-wife and two grown sons, the disruption he caused at ESPN, or the public exposure. Still, he's comfortable with where he is now. "If I'm in the great gyroscope in the sky somewhere and someone asks, 'Would you like to turn back and something different happens that day, but you haven't gotten any smarter?' … I'd say, 'Nah.' I wouldn't do it. It worked out OK."
SOURCE: Bloomberg Businessweek https://www.bloomberg.com/
URL: https://www.bloomberg.com/news/features/2019-01-16/espn-s-ex-president-wants-to-build-the-netflix-of-sports